Anti-Pipeline Activist Shrugs Shoulders At Pedophilia Allegation Against Colleague: 'I'm Not To Judge'
A leading environmental activist from Minnesota apparently just shrugged off allegations that one of her top organizers sexually assaulted a minor, despite the fact that she herself admitted the individual "probably did have sex" with a 15-year-old boy in a series of private messages.
This is disgusting. And it just goes to show you how far down in the muck progressives really are, especially as they are attempting more and more to normalize pedophilia.
A bunch of newly released court documents are making their rounds on the Internet showing that Honor the Earth cofounder Winona LaDuke — what a hilariously ironic name, because she is indeed a Duke, if you get the meaning — who is also a close ally of Rep. Ilhan Omar and Attorney General Keith Ellison, acknowledged that the group's community organizer likely had sex with a Native American boy as a camp counselor.
The truly disturbing thing here is that she actually argued that the organizer, Michael Dahl, and the boy, were involved in a "consensual" relationship that she was "not to judge."
Um, yes, you can judge this relationship. It's criminal and morally reprehensible.
The revelation could undermine LaDuke's work opposing oil pipeline projects in the northern United States, an effort that has gained traction as President Joe Biden places progressive environmental policies at the center of his administration. Honor the Earth ran campaigns opposing the Dakota Access and Keystone XL pipelines, the latter of which Biden canceled via executive order in January. The group has since shifted its efforts to opposing the Line 3 pipeline, which is currently under construction in northern Minnesota. Omar recently met with Honor the Earth leaders to discuss the project and called on Biden to "stop Line 3" just days later.

LaDuke's attorney declined comment, saying his "focus for the next few days is Line 3 related goals." Honor the Earth did not return a request for comment.

A group of Native American women relayed "allegations of pedophilia" against Dahl to LaDuke directly in January 2015, according to a lawsuit filed four years later by a former Honor the Earth employee. Court documents show that LaDuke defended Dahl immediately following the accusation. In a February 2015 Facebook message, she wrote that Dahl "is two spirit and probably did have sex with this guy" but is not "a predator or pedophile as he's raised a lot of young men." LaDuke added that "there's a lot of trust of him by young men and all of us" and that she thought she had to "stand with mike."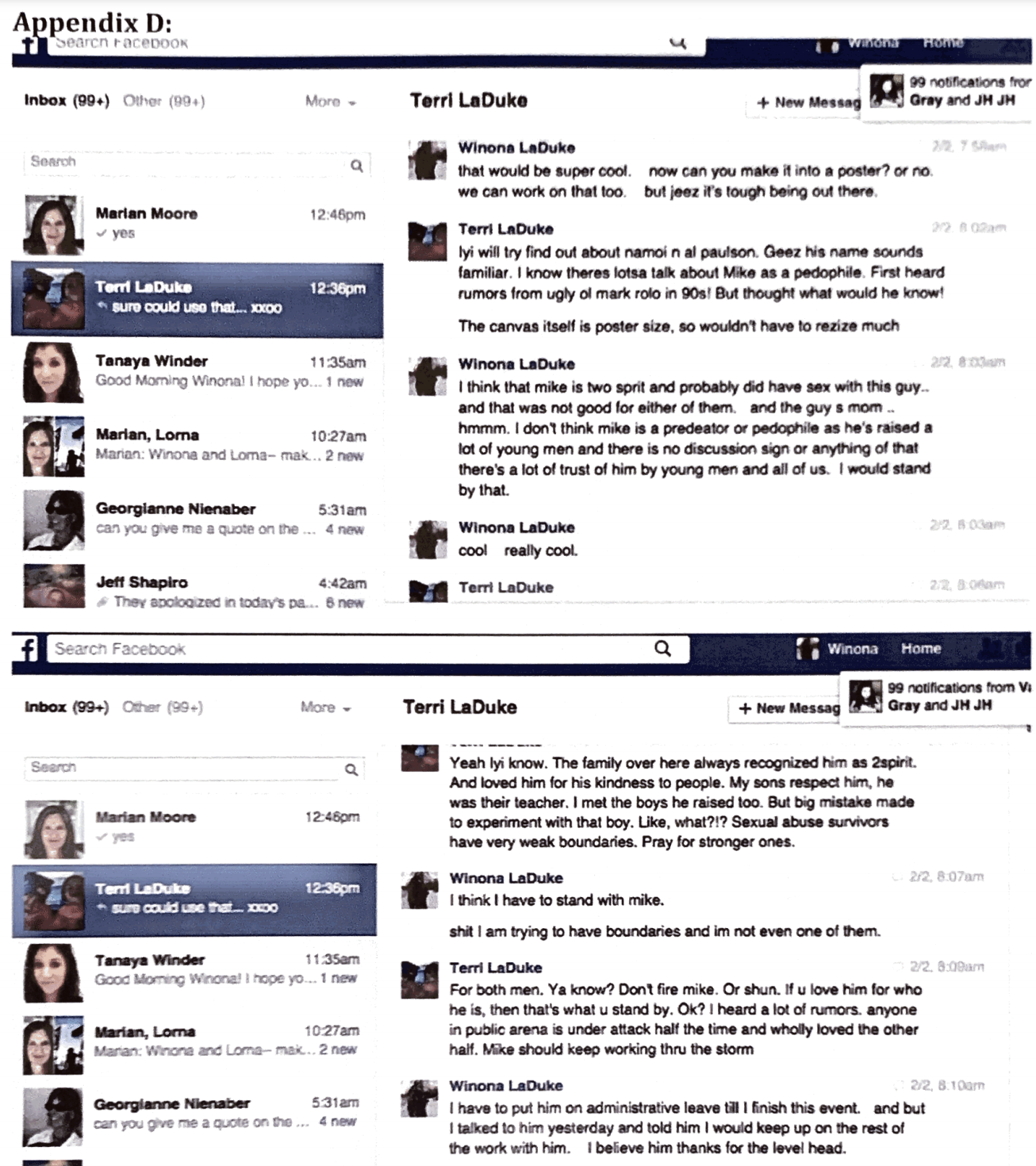 LaDuke echoed the sentiment years later in a July 2020 deposition stemming from the lawsuit. She stated that as a "camp counselor," Dahl "shared a lot of experiences" with a "younger guy," including one that "seems to have been" sexual. According to the environmentalist, however, the relationship was "actually consensual." LaDuke claimed that the alleged victim was "like 17 years old" at the time of the incident—old enough to meet Minnesota's legal age of consent—despite the victim's mother asserting that he was two years younger.
"And I'm not to judge, you know, these things," LaDuke said in reference to the relationship. She went on later to say that she was "getting into this place where I don't really want to get people in trouble," going on to ask "is this a closed deposition now or now it's a public record?"
The pedophilia Dahl is alleged to have engaged in occurred in the 1990s and he was never formally charged. The allegations came back up in 2015 during a meeting between Honor the Earth and a group of Native American women. LaDuke noted the "statute of limitations has passed on that," according to the court documents.
LaDuke was pressed to fire Dahl but she refused and later replaced the individual who encouraged her to get rid of him.
This is truly gross. The fact that these people on the left are beginning to actually move toward celebrating pedophilia is a sign of the times, and boy they are wicked.